Kjære Rob,

gratulerer så mye med dagen.

Når sant skal sies, har du fått utrolig mye oppmerksomhet på bloggen min i det siste. Det er vel og bra, det, for all del, men hva med meg? Eller skal jeg si OSS?

Jeg er ikke urimelig nå, synes jeg, fordi den største gleden en person kan ha er jo å gjøre noe for en annen person. Eller gjøre noe sammen med en annen person. Og siden ditt største mål her i verden jo er å glede MEG - og ja, jeg vet at du ser fram til alt det morsomme, spennende og lekne vi skal gjøre sammen - er min bursdagsgave til deg en liste over de tingene vi skal gjøre når vi møtes.

Jeg kan nesten ikke vente, og jeg vet at du har det på samme måten.

Din for alltid,
TB
1. Det første du gjør er å gi meg en skikkelig god klem.
Fra
Sweetvenom7
via
Robsessed
.
2. Jeg viser deg den nye tatoveringen min. Du viser meg din. Vi er ett.
3.Vi kommer hjem, og etter å ha
"hengt"
sånn cirka et par timer, åpner vi noen øl, og du tar frem gitaren og drar en låt for meg. Og bare meg.
4. Vi "henger" litt til før vi står opp for å drikke oss fulle, og kort tid etterpå tar du en Spunk Ransom og slikker fjeset mitt på en sjarmerende og romantisk måte (ser ut til at du har noen mad skillz på området, Rob). Og vi tuller og ler og har det fint.
Fra
msRluvsU
5. Vi finner ut at det er på tide å "henge" litt til, og finner nye bruksområder for Edwardglitteret.
6. Etterpå mimrer du over barndommens Claudia (søstrene dine pleide jo å kle deg ut som en jente) og du danser for meg. Og bare meg.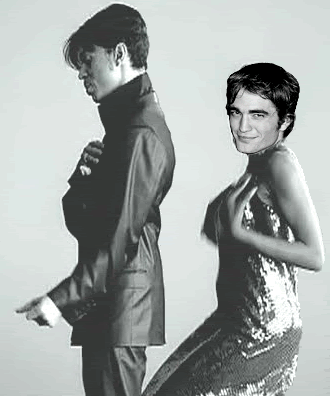 7. Until the end of our existence: vi tar en liten pause, og i fellesskap beslutter vi at det heretter er jeg som skal ta alle avgjørelser, mens din jobb er å være hot.
Fra
xierofanx
via
Letters to Rob
.
Bilder fra Robsessed, trendhunter.com og Hot Topic.